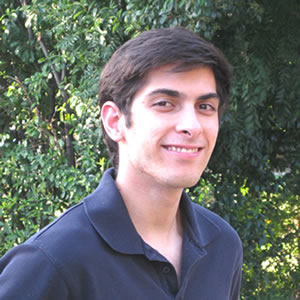 About Bayan Jalalizadeh
Writing and Game Design
Bayan Jalalizadeh is a fantasy author and game designer for young adults. Born to a Persian father and an American mother, Bayan has always appreciated the cultural and intellectual diversity of the people of the world—and born alongside a twin brother, he also appreciates their unity and equality. He often accompanies his family on overseas travels, visiting the beautiful cliff-side shores of Italy, the Moorish villages of Spain, the rolling hills of the English downs, and the beautiful caves in Israel and along the Mediterranean. These have inspired Bayan's visions of lush, fantastical worlds, spurring him to write and create games for children and young adults.
Bayan began writing as a young child. At age eleven, he promised his English teacher he would one day write a fantasy novel. At age eighteen, he accomplished his dream with Danyen's Gift, selling hundreds of copies to fans in the United States and across the globe within only a few months. He now writes to encourage youth everywhere to read, learn, and imagine.
That is why Bayan now writes a games page for the national youth magazine Arise, dedicated to empowering the youth of the United States to serve humanity through positive action and moral thought.
Studies and Hobbies
When he's not writing, Bayan is studying at Washington University in St. Louis School of Medicine along with his twin brother. Bayan obtained a B.S. in biomedical engineering in the spring of 2012, graduating at the top of his class. His desire to perform concrete service to the world led him to conduct research in nanotechnology, epidemiology, and neuroengineering in various laboratories, including at Cambridge University. His nanotechnology research earned him national and international recognition with both the Siemens Competition award and a first place grant at the Texas-Korea Nanotechnology Conference. He plans to continue research and pursue a career in medicine as he writes. Bayan also loves to compose and arrange music for piano and violin, both of which he has been playing for over ten years—and will continue to play for many more.